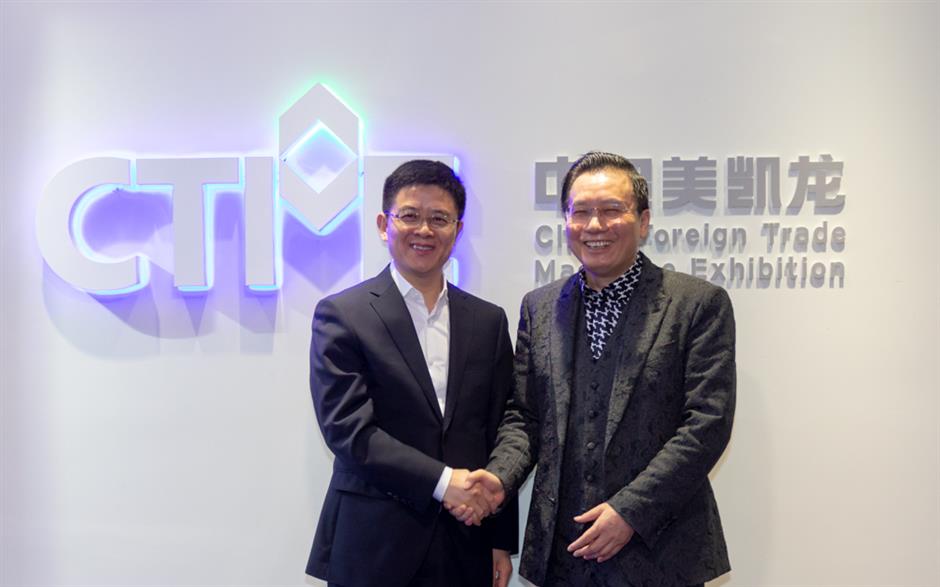 Xu Bing, vice president of the China Foreign Trade Center Group (left) and Che Jianxin, chairman and CEO of the Red Star Macalline Group
The China Foreign Trade Macalline Exhibition Co officially opened in Shanghai on Wednesday, and will help organize two important fairs for the building and construction industry as well as the city's furniture sector.
Jointly set up by state-owned enterprise China Foreign Trade Guangzhou Exhibition General Corporation (CFTE), and a private company called Red Star, the company aims to create a more efficient exhibition service platform, Liu Xiaomin, general manager of the CFTE said.
The two giants, who play a leading role in the exhibition industry and the home furnishing sector respectively, announced they will develop a strategic partnership at the opening ceremony of the International Building and Construction Trade Fair in March 2018, and joined hands organizing the China International Furniture Fair in September last year.
This year, the joint venture will help organize the new versions of the two important fairs in Shanghai.
The International Building and Construction Trade Fair (Shanghai), to be held from March 26 to 28 this year, will cover a total exhibition space exceeding 170,000 square meters, an increase of 112.5 percent over the previous year.
There will be more than 600 domestic and foreign brands exhibiting their products and services at the fair, and it is expected to attract over 100,000 buyers and visitors from home and abroad. Nearly 30 forums will also be held.
"We hope that they can make great efforts to help develop the two fairs as world-class exhibitions with great influence as soon as possible, and promote the high-quality development of China's exhibition industry and home furnishing and building industries," China's Foreign Trade Center Group, a business entity affiliated to the Ministry of Commerce said.
Source: SHINE